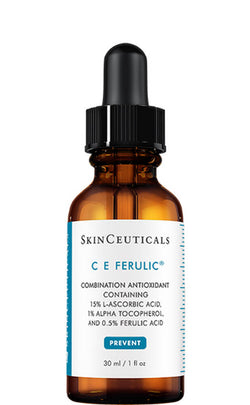 A patented daytime vitamin C serum that delivers advanced environmental protection and improves the appearance of fine lines and wrinkles, loss of firmness, and brightens skin's complexion. U.S. Patent No. 7,179,841. Sign up to receive a complimentary serum sample, ideal for your skin. 
TYPES Dry Normal Sensitive
SKIN CONDITION Sensitized Dehydrated Discolorations Aging
PRODUCT DETAILS
C E Ferulic features a synergistic antioxidant combination of 15% pure vitamin C (L-ascorbic acid), 1% vitamin E (alpha tocopherol), and 0.5% ferulic acid to enhance protection against environmental damage caused by free radicals that can contribute to atmospheric aging. This vitamin C serum helps neutralize free radicals induced by UVA/UVB, infrared radiation (IRA), and ozone pollution (O3), which may lead to visible signs of accelerated skin aging. In addition to antioxidant protective benefits, C E Ferulic improves signs of aging and photodamage, the appearance of lines and wrinkles, and the loss of firmness, while brightening skin's complexion.
Provides advanced environmental protection by neutralizing damaging free radicals
Visible anti-aging benefits, such as the improvement of the appearance of lines and wrinkles, loss of firmness, and brightens skin's complexion
Neutralizes free radicals on the upper layer of the skin to help prevent the impact of ozone damage to skin
Once absorbed, this vitamin C serum remains effective for a minimum of 72 hours
Paraben-free and ideal for normal, dry, and sensitive skin types
Tested suitable for use post-laser, always consult with a

 

physician

 

for individual post-procedure care
PRODUCTS RECOMMENDED FOR YOU