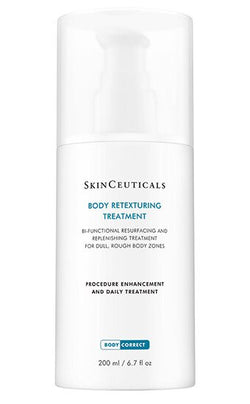 BODY RETEXTURIZING TREATMENT
Gel treatment for the body exfoliates and hydrates simultaneously to resurface dull, rough skin.
 skin types: all sin types
skin condition: Dehydrated, aging
Formulated for dull, rough body zones, this once daily treatment by promoting exfoliation and providing simultaneous hydration to retexture rough body surfaces and significantly improve radiance and smoothness. Suitable for all skin types, Body Retexturing Treatment is effective even on extremely dry, flaky skin.
Promotes exfoliation and provides simultaneous hydration
Improves radiance and smoothness
Formulated for arms and legs and even stubborn elbows and knees.
Paraben-free and fragrance-free formulation
Once daily after showering, apply to legs, arms, and other dull, rough body zones. Can be applied after shaving. Body Retexturing Treatment can be used once daily morning or night
PRODUCTS RECOMMENDED FOR YOU