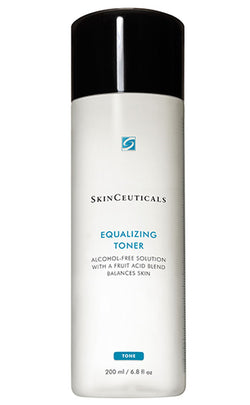 Exfoliating toner helps refresh skin and smooth skin texture while removing excess residue.
SKIN TYPES Dry Normal Combination Sensitive
SKIN CONDITION Sensitized Dehydrated Discolorations Aging

PRODUCT DETAILS
Equalizing Toner is a targeted exfoliating toner that helps refresh and restore skin, while removing excess residue. This pH balancing toner combines hydroxy acids to gently exfoliate dead skin cells, with botanical extracts of witch hazel, rosemary, aloe, and chamomile to soften, soothe, and tone skin.
Features mixed hydroxy acids and calming botanicals to help regulate the pH of the skin
Synthetic fragrance- and alcohol-free
Ideal complement to aesthetic procedures and at-home cosmeceutical use
HOW TO USE
• Twice daily after using a SkinCeuticals cleanser, pour a small amount of this pH balancing toner onto a cotton ball and smooth over face, neck and chest.

• If using in the morning, follow with a SkinCeuticals vitamin C serum and sunscreen.

• If using in the evening, follow with a SkinCeuticals corrective product or moisturizer.
PRODUCTS RECOMMENDED FOR YOU